Retirement Jobs
Consultant
As a consultant, you are selling information to others. You have worked for years at your full time job and you have developed experience and knowledge that will be invaluable to other people.
YOUR KNOWLEDGE is what YOU are selling.
Now you must market yourself and convince others that you have the answers to theirproblems; that you have already faced the problems and conquered them.
Suggestions for using the Internet to sell your consulting service.
• Build a website to describe your experience and area of expertise. This will show your prospective customer who you are and how you can solve his/her problems. Having a website tells the world that you are serious about your business.You say, "I don't know anything about building a website." Well, it is not as hard as you think if you have the right tools. If you use Site Build It to provide you with the tools, you can do it. This website you are reading is a Site Build It website. Read on.
You need a website that sells a service which is what you as consultant will provide. You can provide this service in your local area or to a global market. The Internet allows you to do both. We all know about the global reach of the Internet. On a local basis, it is rapidly replacing the yellow pages for locating service providers.
Consider a service sales website for your consulting business.
Formore information about Site Build It, watch SBI Television.
• Publish articles about your area of expertise to show your knowledge. I recommend publishing your articles on www.ezinearticles.com. In my opinion, it is the premier article site on the Net. Once your article is accepted and published on Ezinearticles, you can easily publish it on over 100 other business article sites.
I use a service in Pakistan to do this for me at a very reasonable rate. If you want more information about this service, send me an email to john (at)retirement-jobs-online.com.
At the end of each article, your bio will point back to yourconsultant website. Just think of the exposure that you get from one article published on over 100 business article sites.
Ifyou are not already a published author, you will find that publishing on theInternet and being able to include "author" in your bio brings youadded respect. This is expected of a consultant.
• Publish a newsletter for your subscribers with tips and current information in your area of expertise.This will increase your presence on the Internet. For more information, read about Publishing an Ezine.
• Publish a blog and add to it frequently. This is a very quick and easy way to establish yourself on the Internet. It can be very effective in attracting attention to your consulting business. For more information, read about Blogging.
• These are just a few suggestions.
Let your imagination run wild and think of other creative methods of attracting customers on the Internet.
Your job is consultant, not webmaster. You should not become bogged down in the technical details of building andmanaging a website.
I recommend that you use Site Build It (SBI) for your website work. This will allow you to concentrate on your consulting business and let SBI do most of the work.
Do not think that all you do is push a button and your SBI site is on autopilot.
The initial set up will require some hard work, but from my personal experience, the SBI process will lead you through finding your niche market for your consulting business, naming your website, and building your site. It will then promote your site to the search engines. The search engines will send your customers to your website. Once the search engines have delivered the customer to you, it is up to you to close the contract.
Here is a free ebook about settingup a services sales business. You can download it to your computer andread it at your leisure. It contains very helpful information that willhelp you get started selling on the Internet.
Goto the Download Page for The Service Sellers Masters Course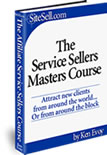 Good luck in becoming a consultant